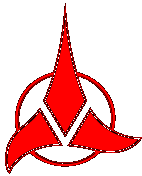 History Is Written By The Victors!

[ Index | Unframed Index | What's New? | Recipes | Theme Party | Weapons | Who is K'Tesh? | Songs & Poems | Transporter | Email]

Like every unique culture, Klingons have their own writing system. This can present problems, if you do not know what each character looks like, or the sound associated with it.

Therefore to promote understanding among our allies in the Federation, I have created this guide.

The Klingon alphabet, features 26 characters, but these have different sounds than the Federation's alphabet (i.e. the Federation's letter "C" sounds like the word "sea", but the Klingon letter that most closely matches "C" sounds like "ch" as in the first sound of the word "chart"). Because of this, klingon words are often shorter than their translation into Federation Standard.
The chart to the right shows how to recognize the different characters:

White represents the letter that one would type in the KlingonTNG true type font to get the corresponding Klingon letter.

Red is (obviously) the Klingon letter that most closely resembles its Federation counterpart.

Light Blue represents the sound associated with the Klingon letter.

NOTE: The apostrophe appears as a box in certain programs, but in others, is seen as the character enclosed in that box.

For your convenience I have created a file that you can download which includes a copy of the chart, a Word document equivalent, and the KlingonTNG true type font.
For more information, I recommend you consult your local database (Library) or data vendor (bookstore), and read the following files written by exoethnologist Marc Okrand:
THE KLINGON DICTIONARY
STAR TREK: THE KLINGON WAY, A Warriors Guide
STAR TREK: KLINGON, For The Galactic Traveler